The Orange Gargantua: Artwork based on
the first direct image of a supermassive black hole, located at the galactic core of Messier 87. Ten times larger than the orbit of Neptune around the Sun. The image was released in 2019 by the Event Horizon Telescope Collaboration.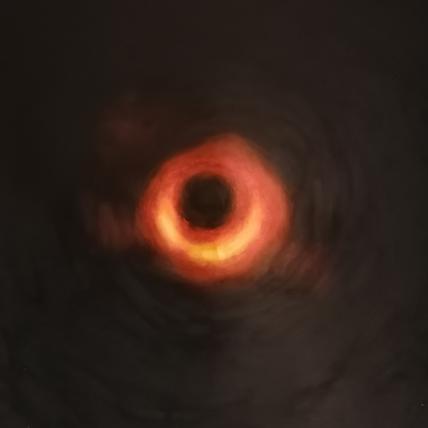 Ownership: Sold to Private Individual, USA

"The Orange Gargantua
", 2021
50 W x 30 H x 1 D cm

16.1 W x 6.3 H x 0.4 D in

One-of-a-kind piece

COA:
This can artwork includes a certificate of authenticity.
Shipping: Free
f
rom Lisbon, Portugal (EU country).
Tax:
EU
VAT included in price. International shipping may be subject to customs duties and taxes.
Return Fee:
Buyer is responsible for return shipping charges and will not be reimbursed for the original shipping cost.
Refunds:
100%, after 3 days of arrival.
Secure transactions by credit card or google pay through Stripe. Use the blue button Buy above.